Welcome to the Handmade Dress Up Series! You'll find a new tutorial for sewing, glueing or crafting a dress up costume every day. Whether you're an avid DIY'er or just looking for something fun to try please subscribe so you don't miss the other 27 bloggers and their wonderful tutorials! Like what you see? Support these guests by pinning their projects or stumbling the posts!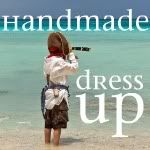 Do you have a superhero in your house? Kate is here to show you how to make superhero wrist bands! Thanks for the tutorial!
I blog about sewing, crafts, fashion and more. I really love ruffles! I share new tutorials each week on my blog. Some of my favorites are this vintage suitcase chair, the scrap map and a ruffle shower curtain. I have a little boy who is just starting to get into the age where it will be fun to dress him up, so this series is great!
Today I'm sharing an easy tutorial for superhero cuffs! Because a superhero is not complete without them!
Materials:
3 colors of felt

velcro

Stack the two cuff pieces and topstitch them together all the way around at 1/8-1/4"

Sew the star in the middle.

Your velcro should be as long as the short edge. Sew one piece of the velcro to the front of you cuff and the other piece to the back of the opposite side.

Velcro it together and you've got one little cuff!

Now repeat for the other side and go save the world!

You can even switch up the stars for something else like hearts or lightning bolts!

(click photo to see post)
Check out the other Handmade Dress Up tutorials!